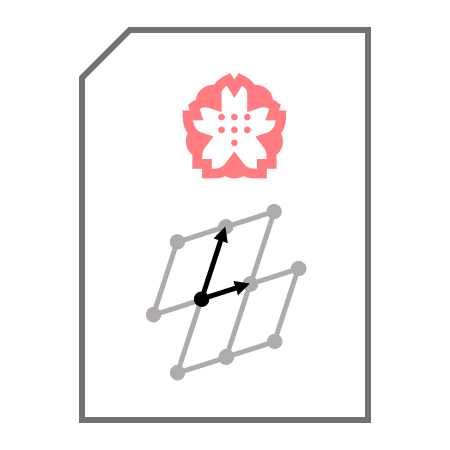 Notes for UMich EECS 598 (2015) are for Lattices in Cryptography virtually instructed by Chris Peikert (i.e., I taught myself using resources made available by him). This entry is for homework 2.
Problem 1(a). In an LLL-reduced basis B, we have ∣bi​∣≥2−(i−1)/2∣b1​∣=2−(i−1)/2∣b1​∣. Therefore, detL=i=1∏n​∣bi​∣≥2−n(n−1)/4∣b1​∣n, and the desired inequality follows by moving the terms around and taking the nth root of both sides.
Problem 1(b). Similar to part (a), we get detL⟹  ∣b2​∣​≥2−(n−1)(n−2)/4∣b1​∣∣b2​∣n−1≤2(n−2)/4(∣b1​∣detL​)1/(n−1).​​ Let μ12​∈[2−1​,21​] be s.t. b2​=b1​+μ12​b2​. Together with ∣b2​∣2≥21​∣b1​∣2, we get ∣b2​∣​=∣b2​∣2+μ122​∣b1​∣2​≤∣b2​∣2+41​∣b1​∣2​<2∣b2​∣2​≤2n/4(∣b1​∣detL​)1/(n−1).​​
Question. The inequality for part (b) is so similar to that of part (a). Is it possible to defined a 'quotient lattice' so that part (b) is part (a) applied to this quotient?
Problem 1(c). Let v=Bz=BUz be any shortest vector, where B=BU is the Gram–Schmidt decomposition of the LLL-reduced basis B and z∈Zn. Writing Uz=(y1​,…,yn​)T, we have yi2​∣bi​∣2⟹∣yi​∣​≤y12​∣b1​∣2+⋯+yn2​∣bn​∣2=∣v∣2≤∣b1​∣2=∣b1​∣2≤2i−1∣bi​∣2≤2(i−1)/2.​ Here, the first equality is due to Pythagorean theorem, and the second inequality is because b1​ is a non-zero lattice point and v is a shortest non-zero lattice point.
It is easy to inductively prove ∣z[i]∣≤(23​)n−i2(n−1)/2 backwards (from n down to 1) using z[i]+U[i,i+1]z[i+1]+⋯+U[i,n]z[n]=yi​ and the property that ∣U[i,j]∣≤21​ for all j>i. Let c=log2​3−21​, then ∣z[i]∣≤2cn for all i=1,…,n.
Problem 2. I prove the meta proposition that the two definitions are equivalent. This would be a good exercise to reactive the muscle of elementary calculus.
Let R be the set of radius r≥0 such that translations of rB by lattice points cover Rn, and define s==defx∈Rnsup​v∈Linf​∣x−v∣. We want to show that s=infR. (We should prove s<+∞, but this is implied by part (c).)
By the definition of R, for all r∈R and all x∈Rn, there exists some v∈L s.t. x∈(rB+v). This means ∣x−v∣≤r, whence infv∈L​∣x−v∣≤r, which implies s≤r.
Moreover, for all s′>s, let r=2s+s′​. For all x∈Rn, since infv∈L​∣x−v∣≤s<r, there exists v∈L s.t. ∣x−v∣<r, which implies x∈(rB+v). This gives us R∋r<s′.
We may thus conclude s=infR.
Problem 2(a). Let v be a shortest non-zero lattice point and suppose 2v​∈u+μB, where u is a lattice point. We now have 2v​=u+r for some r s.t. ∣r∣≤μ. This means 2r=v−2u is a lattice point. It cannot be zero, otherwise v=2u would be longer than lattice point u. Therefore, 2μ≥∣2r∣≥λ1​.
Problem 2(b). The lattice Zn has covering radius μ≥n​/2 and minimum distance λ1​=1. The former is due to (21​,…,21​) having distance at least n​/2 to any lattice point.
Problem 2(c). By homework 1 problem 3(c), translations of B⋅[2−1​,21​)n by lattice points cover Rn. For any v∈B⋅[2−1​,21​)n, we have ∣v∣≤21​∑i=1n​∣bi​∣2​==defr, whence B⋅[2−1​,21​)n⊆rB (the ball is taken to be closed). Since translations of rB by lattice points cover Rn, we have μ≤r.
Problem 2(d). Choose the fundamental region F=B⋅[2−1​,21​)n, and partition any covering ball rB into Sv​=rB∩(F+v) for lattice points v. Note that the translated partitions Sv​−v=(rB−v)∩F cover F since rB is covering. Therefore, rnVn​​=vol(rB)=v∈L∑​vol(Sv​)=v∈L∑​vol(Sv​−v)≥vol(v∈L⋃​(Sv​−v))=vol(F)=detL,​ which implies r≥(detL/Vn​)1/n. Lastly, μ=infr≥(detL/Vn​)1/n.
Interleave. The video below is by 3Blue1Brown and about high-dimensional balls. (Video is removed from printing.)
Problem 3. It suffices to consider ε=0,B=p​/32.
Problem 3(a). We need Nh,Nh−1f(x),…,Nfh−1(x).
Problem 3(b). Consider the lattice generated by g(Bx) where g(x) is one of the 2h+1 polynomials. The determinant is detL=N1+⋯+hB1+⋯+2h=Nh(h+1)/2Bh(2h+1). We want LLL to return a vector of length less than 2h+1ph​, and we analyse this in the next problem.
Problem 3(c). Let L=log2​p, then log2​N≤2L+1 and log2​B=21​L−5. We need to set Q=log2​(2(2h+1−1)/22h+1​(detL)1/(2h+1)ph2h+1​)<0. We know Q​=h+21​log2​(2h+1)+2(2h+1)h(h+1)​log2​N​+hlog2​B​+log2​(2h+1)−hlog2​p​≤4h+2hL​+h(2h3log2​(2h+1)​+4h+2h+1​−4)​≤4h+2hL​−h.​ It suffices to set h to be a positive integer s.t. 4h+2≥L, which can be made polynomial in the input length. The rest is obvious.